Cooling, Efficiency, and Silence: The Triple Threat of the 24VNA9 Infinity® 19-SEER Variable-Speed Central Air Conditioner
AUGUST 3, 2023
When it comes to finding the perfect air conditioning unit, the choice can be overwhelming. Yet, amongst the sea of options, the Carrier 24VNA9 Infinity® 19VS Central Air Conditioner stands out for its innovative features and unparalleled efficiency. So, why should you choose this particular model? Let's dive in.
Impressive Cooling Efficiency
The Carrier 24VNA9 Infinity® 19VS Central Air Conditioner boasts up to 20.5 SEER cooling efficiency when paired with the proper furnace and AC coil, a remarkable feat in air conditioning units. This high efficiency translates into significant energy savings and significantly reduced operational costs for homeowners.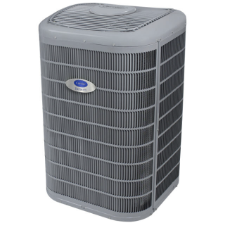 Whisper-Quiet Operation
Are you tired of noisy air conditioners that interrupt your peace and quiet on the patio? The Infinity® 19VS could be the solution. With this variable speed system which allows it to operate at lower RPMs, the sound level as low as 58 decibels, it operates at a volume quieter than normal conversation, ensuring your home remains peaceful even during its operation.
Greenspeed Intelligence
Harnessing the power of Greenspeed intelligence, the Infinity® 19VS provides optimal comfort by intelligently adapting to the cooling needs of your home. This innovative technology offers precise comfort control and runs at the most economical speed to save energy.
Perfect Humidity and Temperature Control
Another great advantage of the Infinity® 19VS is its ability to effectively control temperature and humidity levels. Its variable-speed compressor operates in five stages, capable of running at as low as 25% of its capacity. This feature ensures comfort by removing excess humidity and maintaining consistent temperature levels. You can even program it to run in fan mode to circulate air in the home, pulling airborne particles into the filtration system and creating a healthier home.
Exceptional Design for Noise Reduction and Protection
The unit's design incorporates a compressor sound blanket and Silencer System II™ design that further suppresses noise during operation. The WeatherArmor™ Ultra protection shields the unit against weather elements, while the filter drier system safeguards it from moisture and contaminants. These features prolong the unit's lifespan and maintain its performance.
Environment-Friendly Refrigerant
The Infinity® 19VS uses the non-ozone depleting Puron® refrigerant. This environmentally friendly choice underlines Carrier's commitment to responsible, sustainable practices.
Warranty Coverage
To top it all off, the Infinity® 19VS comes with a 10-year parts limited warranty and a 3-year labor limited warranty upon registration, providing homeowners with peace of mind about their investment. But protect it with our signature "Rock*Star Maintenance Plan," starting at only $179/year (including Spring AC and Fall Furnace cleaning); we can ensure your system lives a full and healthy lifetime.
Upgradeability: A Key Advantage
The Infinity® 19VS is unique in many ways. It allows homeowners to upgrade their system one component at a time, unlike most AC units. If your AC has failed, but the rest of your system is intact, you can simply replace the AC component, saving significant costs. Your Carrier® expert can help you determine the compatibility of the Infinity® 19VS with your existing indoor unit. But keep in mind that your furnace is very important to your overall system efficiency. Ask us about AC & Furnace "Bundles" this season to help you save big, and don't forget about the Energy Efficiency Rebates from ComEd and Nicor. They can really add up.
Conclusion
The Carrier 24VNA9 Infinity® 19VS Central Air Conditioner provides more than efficient cooling. It offers a silent variable speed operation and advanced control systems to make your home "Smarter, Healthier, and More Efficient." This unit's combination of innovation, efficiency, and flexibility makes it an excellent choice for any homeowner.